Katy Perry's love of dressing up is no secret, especially if there is a designated theme. She has had some kooky fashion moments that we'd rather wish to forget but recently she has had some stellar moments that shows us that she is pulling out all the stops to be one of the best dressed celebrities.
Over the years she has managed to let her sparkly personality shine through in her retro glamour fashion choices on and off the red carpet. Her sincere smile can brighten up the darkest room and her quirky neon pink head can turn heads, maybe that's why we love her so much.
Here is a peek at some of her best-dressed moments over the years.
August 28, 2019
Katy arrives at The Ham Yard Hotel in London wearing a bright yellow, flowered, Lhd Marlin Dress with an adorable matching yellow Miller Bonsai Bag.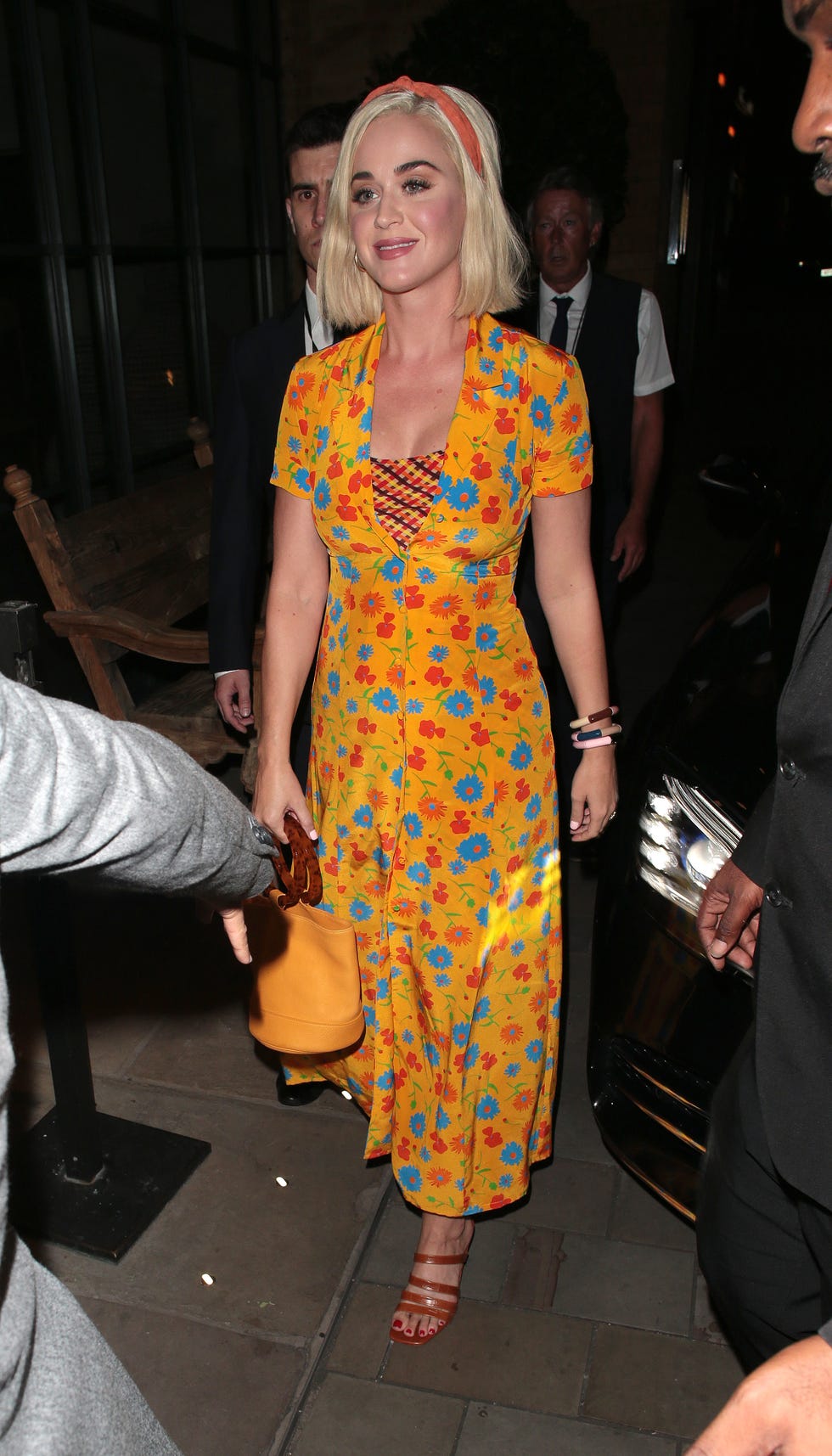 August 7, 2019
Katy shows off some more romantic floral prints for Capitols Music's Congress. Critics said that Katy was unrecognizable on the red carpet wearing the delicate but vintage styled dress by Caroline Constas.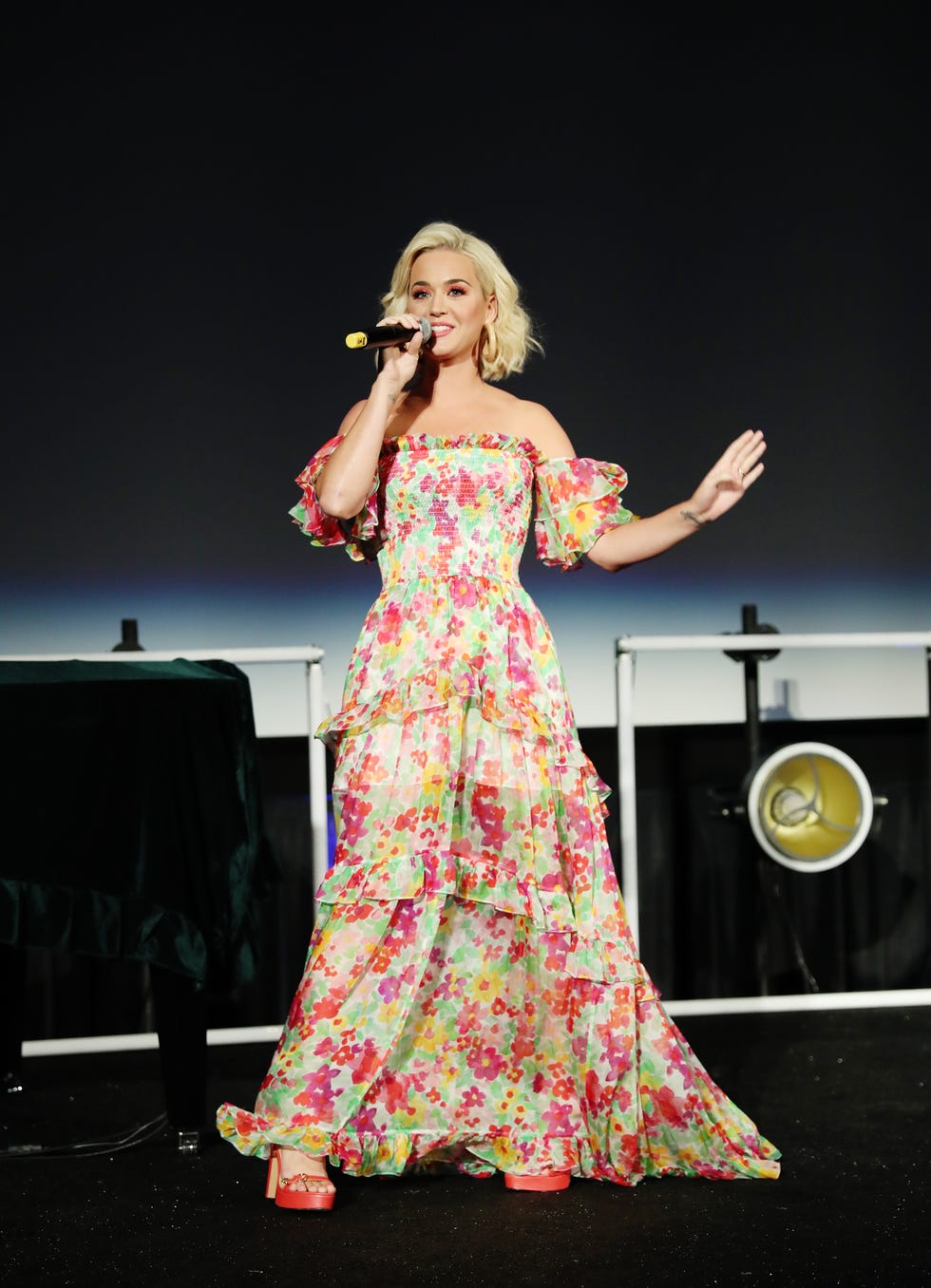 June 4, 2019
Katy knows how to dress while strutting her stuff in Los Angeles for a night on the town. The bright blue, ruched leather dress by Jonathan Cohen looked exquisite on her with orange Loriblu sandals.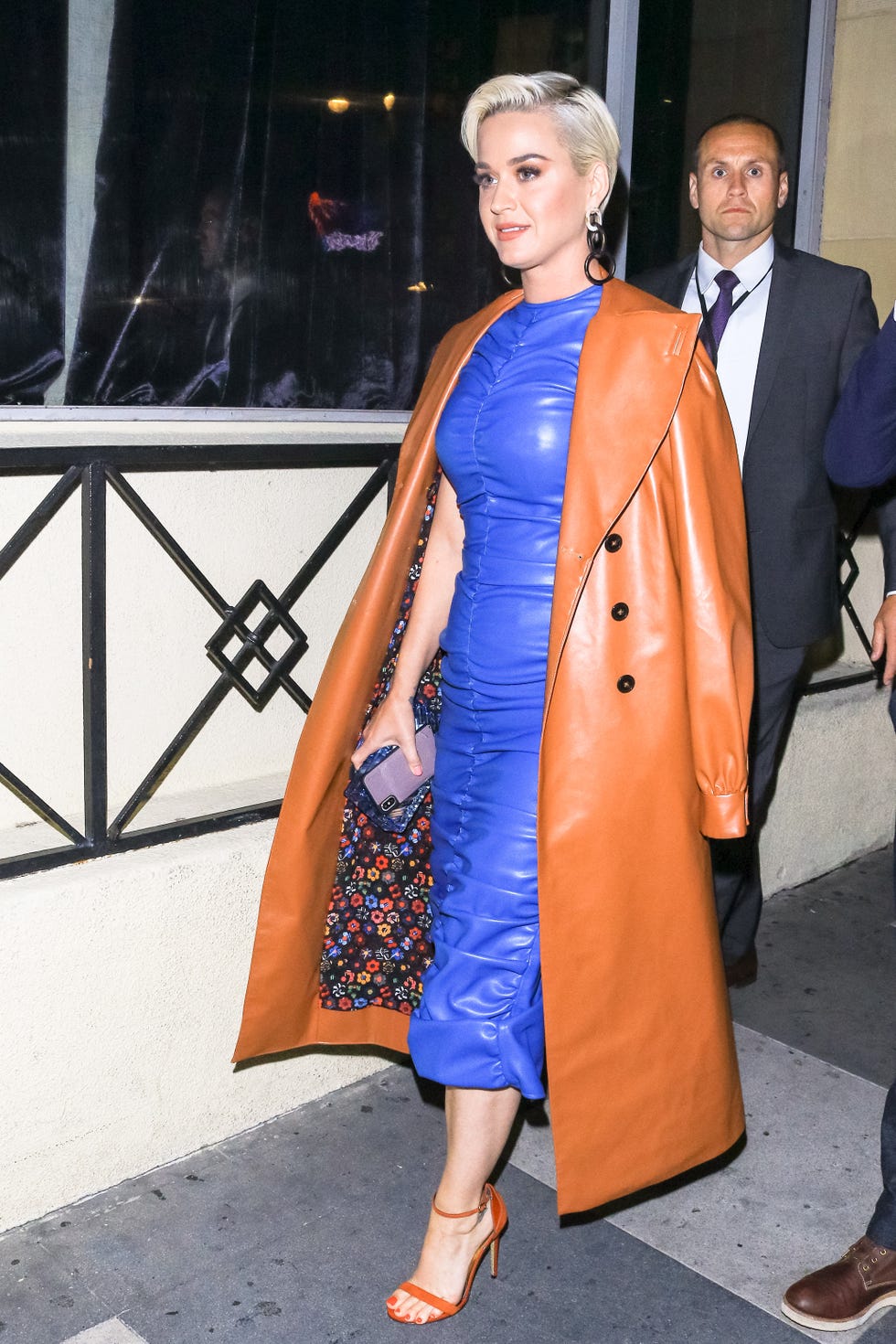 May 19, 2019
Oh Katy, how we love your flare for style! Arriving to the set of American Idol to sing a duet of the song "Unconditionally" with Jeremiah Lloyd Harmon, wearing a black and white gown with a matching hat.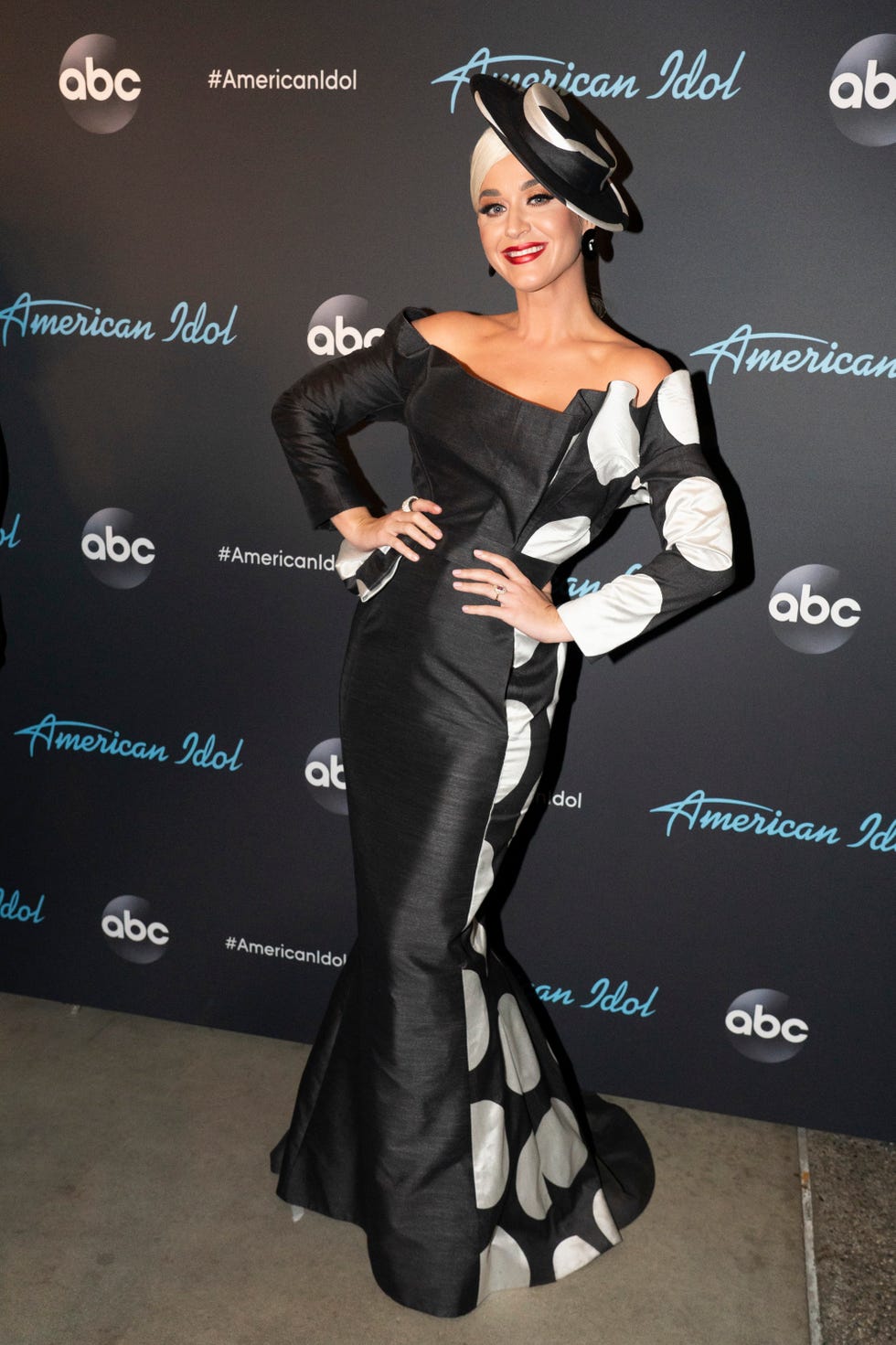 February 25, 2019
The 34-year old entertainer isn't just showing off her form fitting bronze off-shouldered gown on the Jimmy Kimmel Show but also her stunning engagement ring!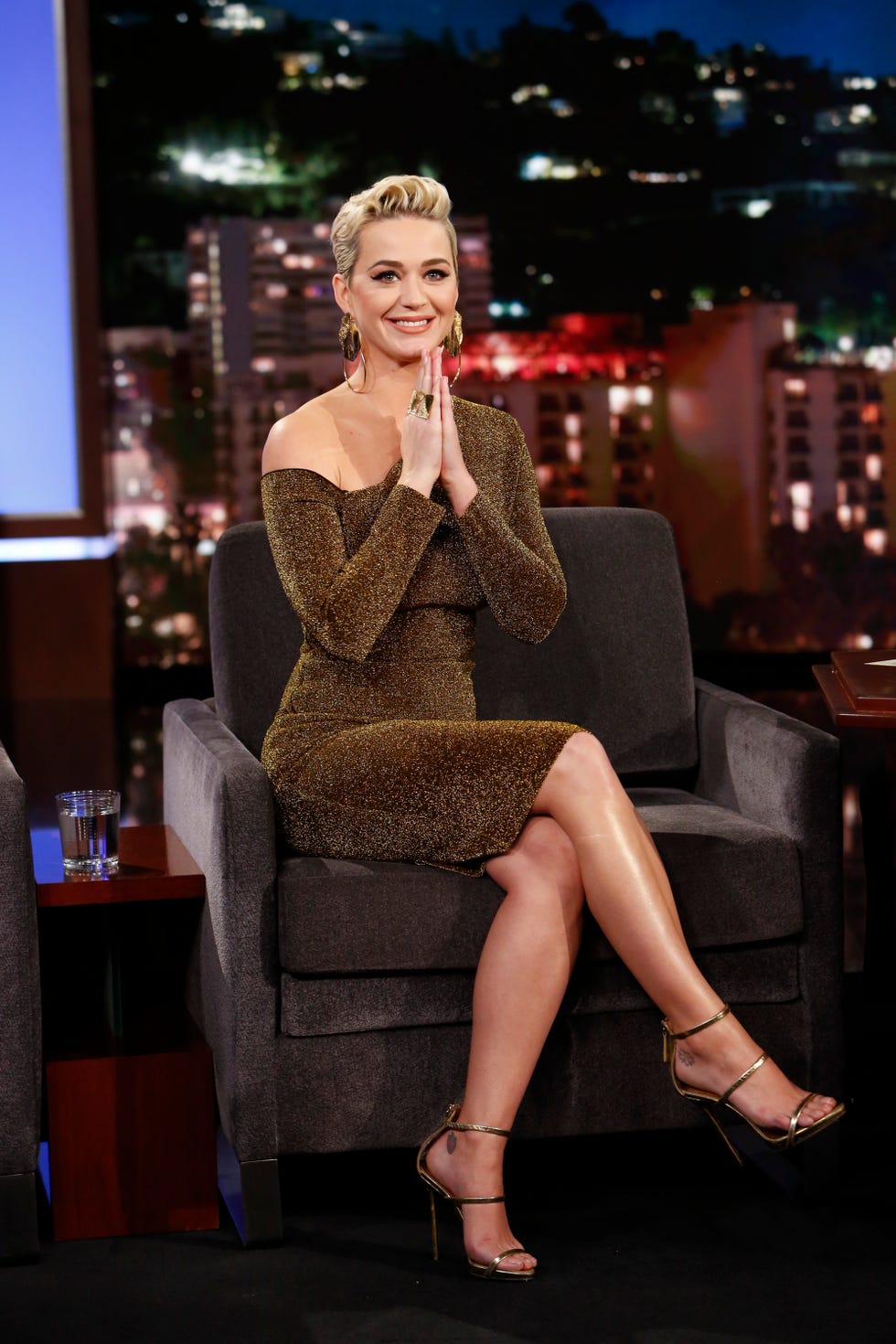 October 18, 2018
Katy appeared at the amfAR Gala In Los Angeles wearing a mystical feathered gown by Alexis Mabille, showing us that angels aren't only creatures with wings.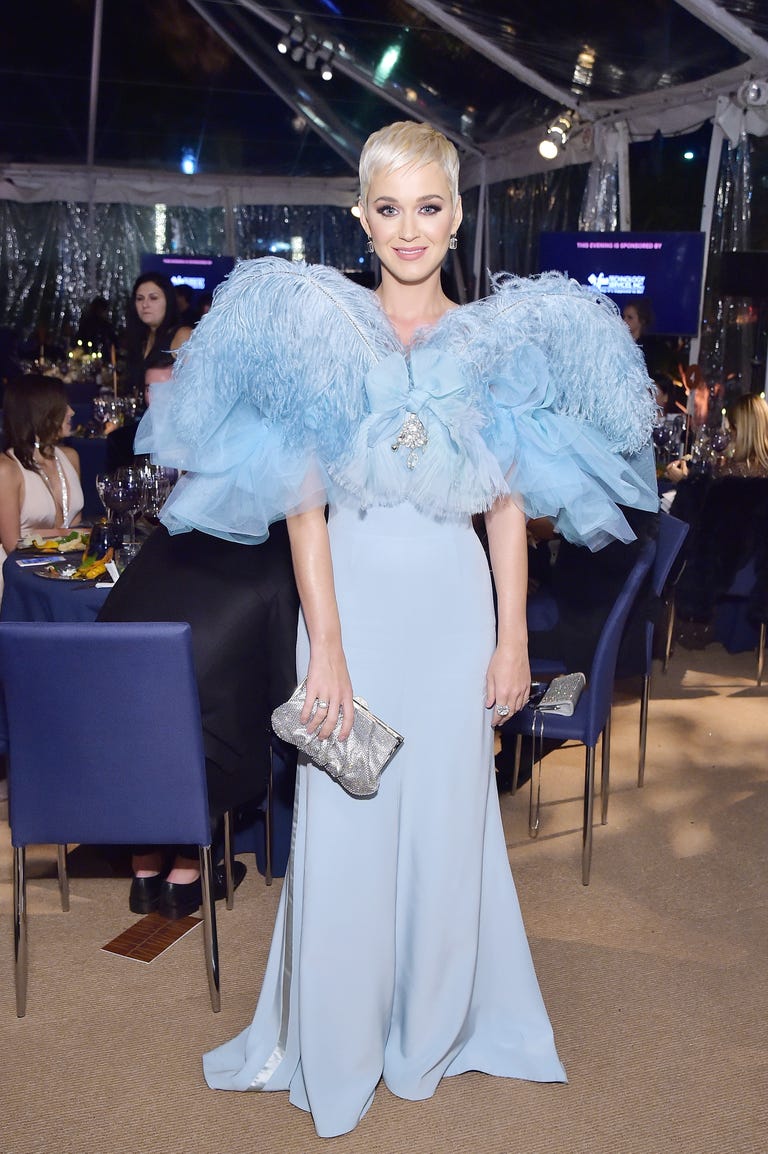 May 6, 2018
The singer is wearing another one of her favorite designer's ensembles, wearing a body hugging scarlet gown by Alexis Mabille. We don't know about you, but one of the main reasons we watched American Idol is to see Perry's outfits.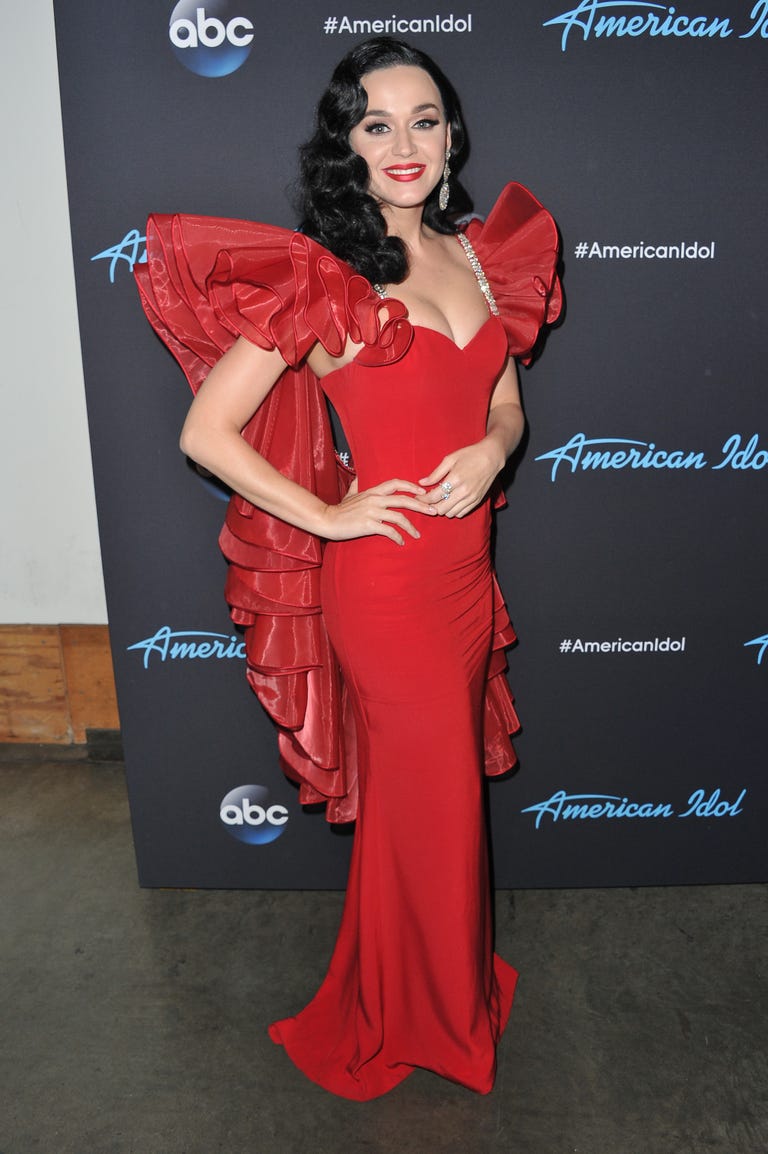 April 29, 2018
No, Katy isn't visiting Disney! She dressed up as Snow White for a scheduled taping of the American Idol.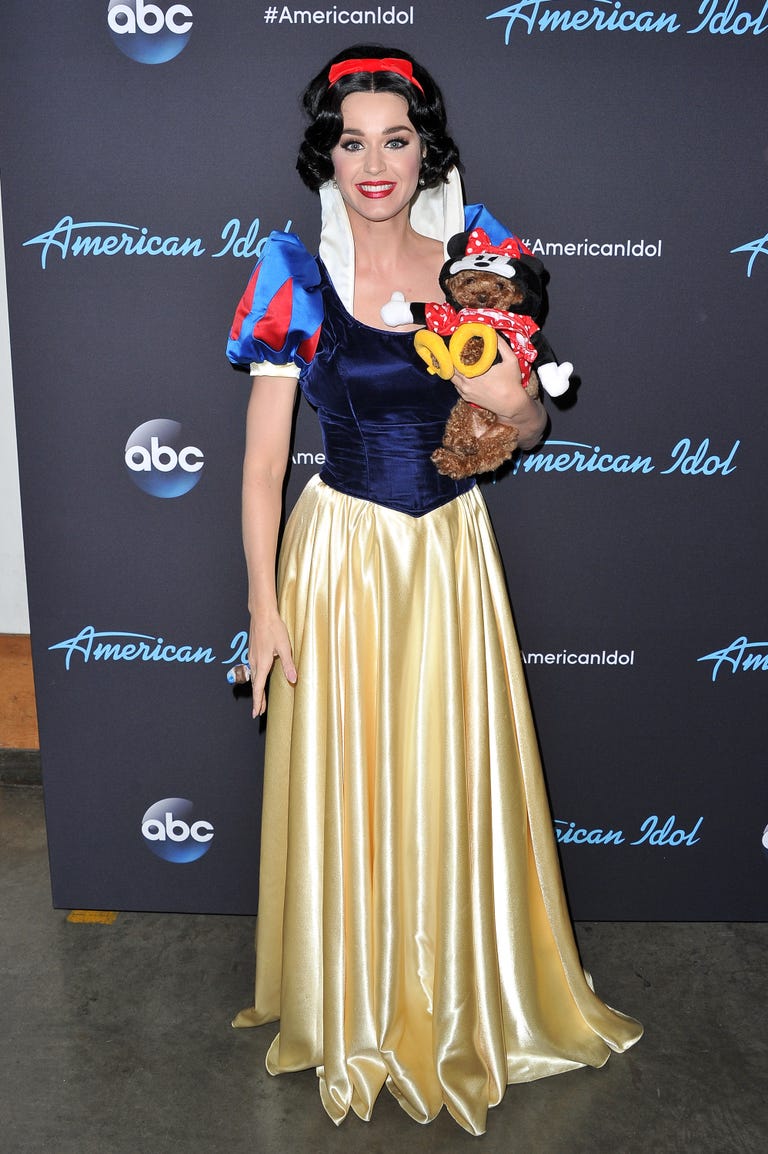 August 25, 2017
Probably one of our favorite looks of Katy Perry as she poses backstage at the MTV Video Music Awards despite her ongoing feud with Taylor Swift at the time.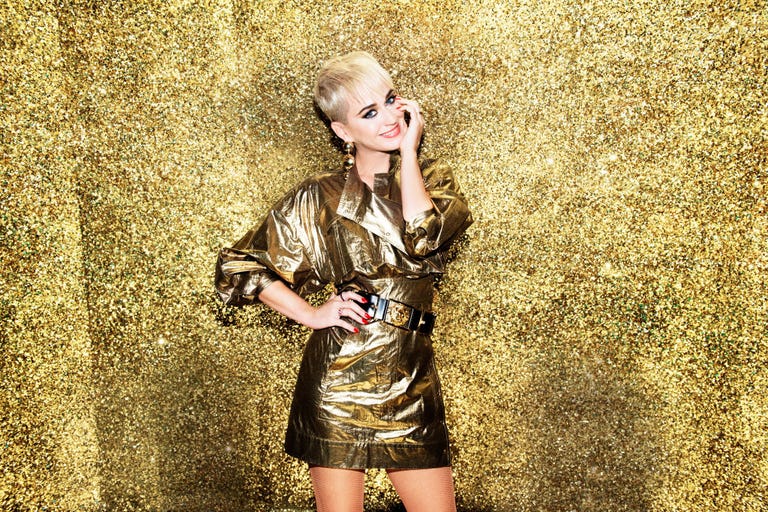 July 3, 2017
Oh la la! Katy is spotted leaving the Caviar Kaspia Restaurant in Paris wearing a gown designed by Elisabetta Franchi, proving that she can dress elegantly and not outrageously.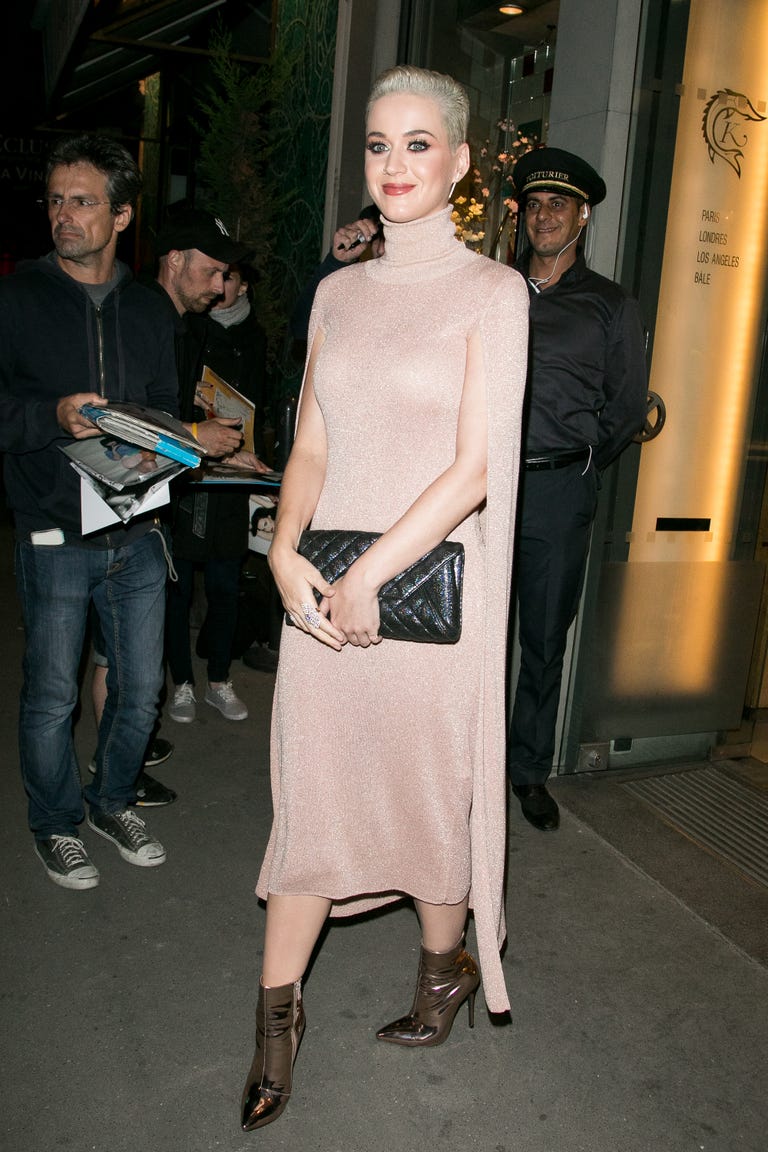 September 16, 2015
Katy is sporting her iconic crimson hair that we slightly miss, wearing a glittery high-slit dress for an event for Harper's BAZAAR in New York City.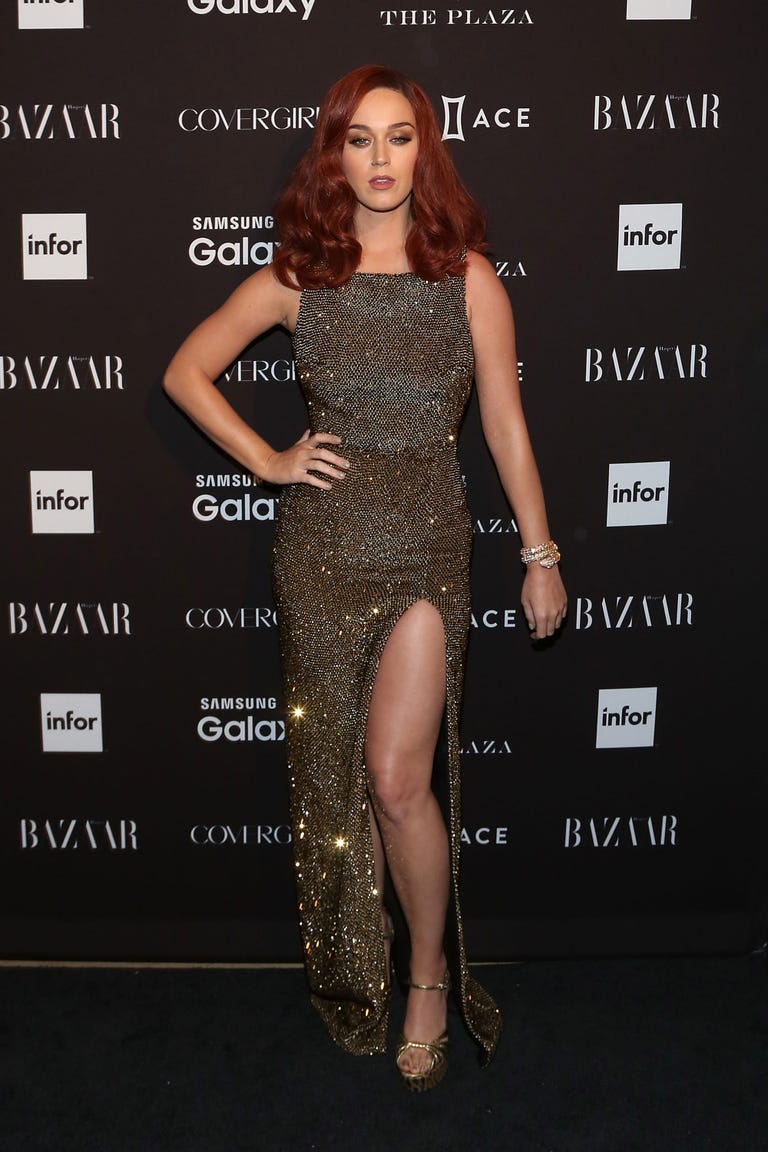 January 29, 2015
Katy shows us her football spirit wearing a football-adorned RVN cropped top and skirt to the Super Bowl in Phoenix, Arizona for the half-time show.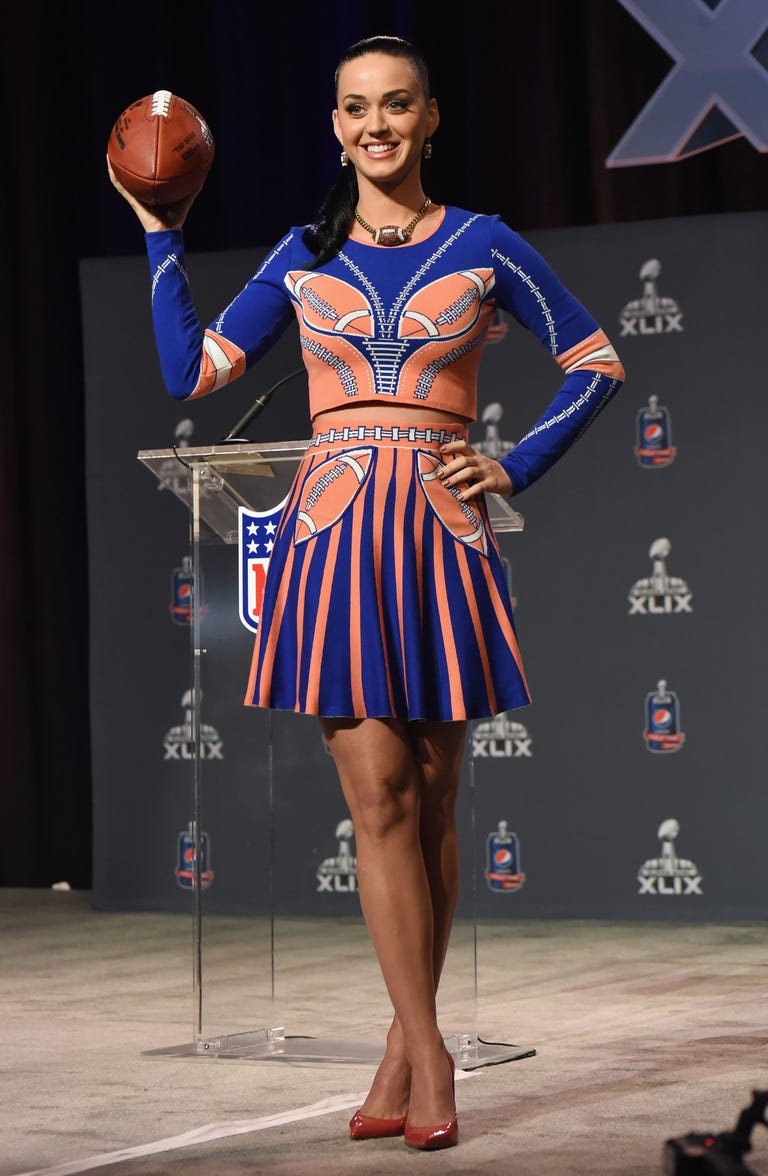 August 25, 2014
Katy channels her inner Britney Spears, wearing this jean dress by Versace to the 2014 MTV Video Music Awards. She looks like she stepped out of the nineties, just more glamorous.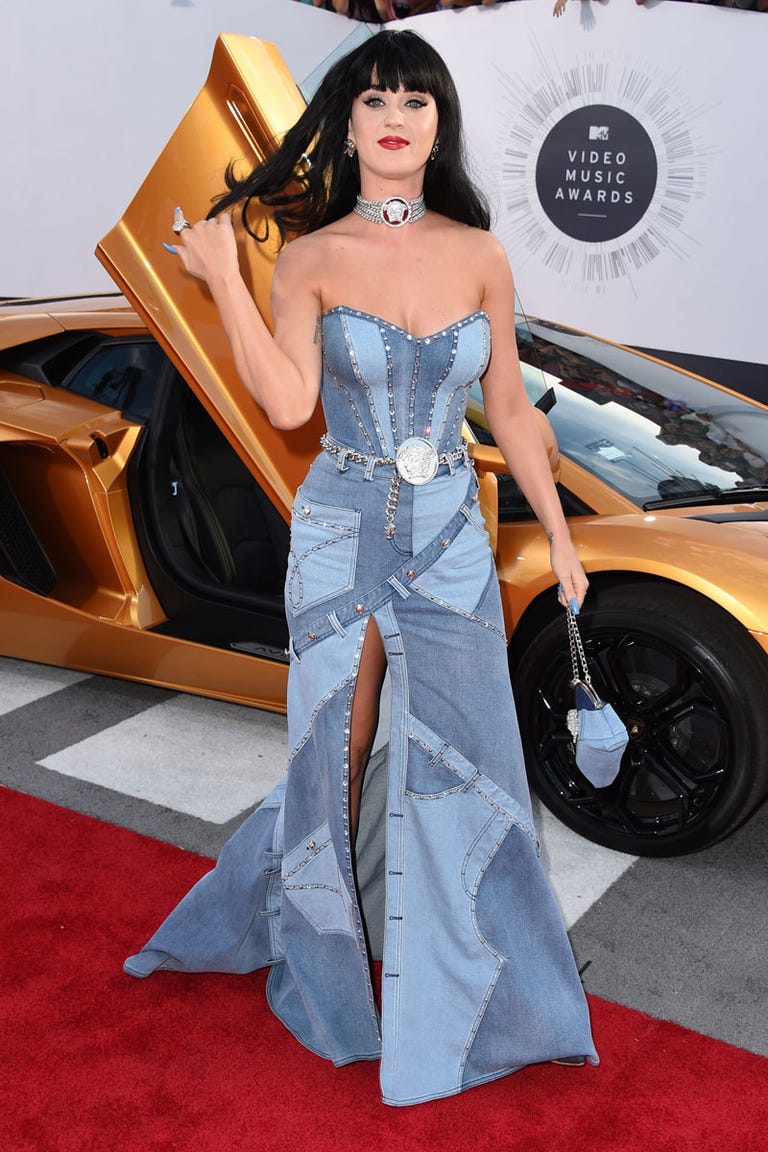 February 19, 2014
Katy proudly takes the stage at the BRIT Awards, wearing a sequined Julien Macdonald gown.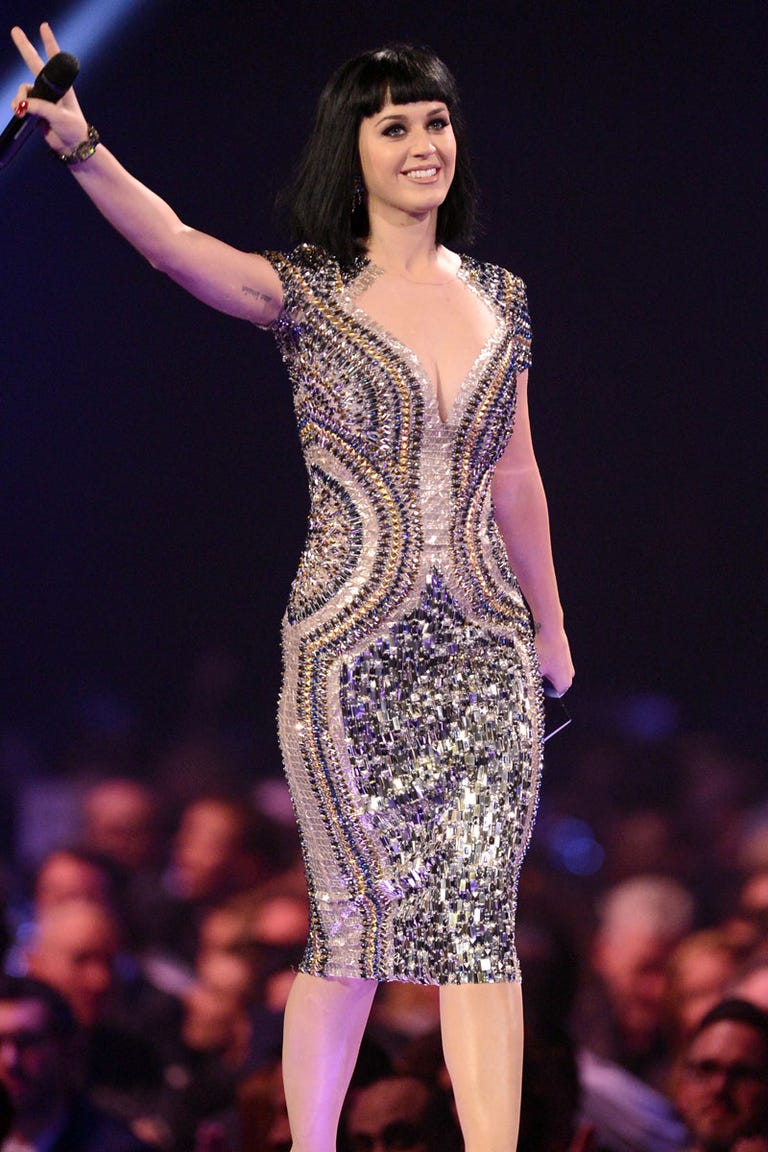 February 8, 2009
Katy shows the world that she can look elegant and perky in the light pink Basil Soda gown to the 51st Annual Grammy Awards.